While mixed martial arts is a relatively new prospect in the Empire State, many great fighters that have impacted the sport call New York state home. This is Nick's Top Ten and we're going to take a look at New York's top ten fighters to ever step in the mma cage or ring. For this list we're looking at the best and most influential mixed martial artists born in the state of New York.
10. Costas Phillippou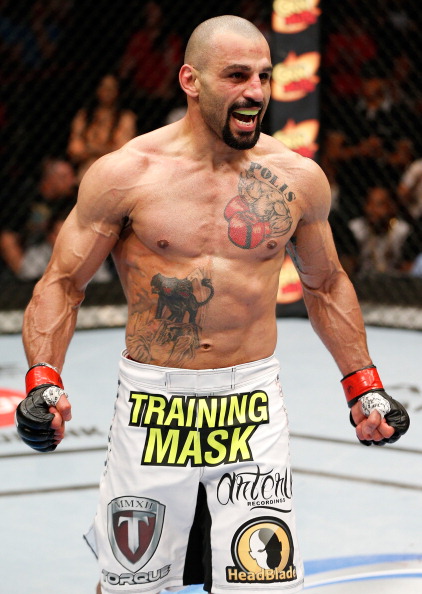 UFC  –  Jeff Botarri /Zuffa LLC
First entry on this list wasn't actually born in New York. However, if you were to ask Cyprus born fighter Costas Philippou to what he attributes his successful mma career, he would you tell his time in New York. Costas moved to the states in 2005 and fought in the Golden Gloves two months after, making it all the way to finals to compete under the bright lights of Madison Square Garden. Despite a potential future in boxing, Costas instead turned to mixed martial arts and began his career in 2007 under the mentor-ship of Matt Serra and Ray Longo. Early on in his career, Costas found much success competing for the Ring of Combat, a small east coast based promotion that has helped launch many successful careers. This included winning the promotions Middleweight championship. Once he joined the UFC, it didn't take long for Philippou to cement himself as a legitimate threat to anyone in the Middleweight division. Unfortunately, Philippou decided to abruptly cut his career short back in 2015, retiring after a loss to Gegard Mousasi. Philipou finished his career with a 13-5 record and has defeated notable names such as Jorge Rivera, Court McGee, Tim Boestch and Lorenz Larkin.
9. Aljamain Sterling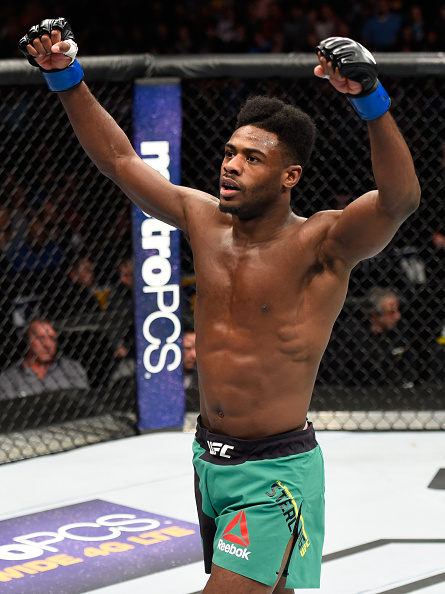 UFC  –  Jeff Botarri /Zuffa LLC
A young up and comer on the rise, 27 year old Long Island native Aljamain Sterling has already made some waves in the UFC's Bantamweight division. A successful collegiate wrestler at SUNY-Cortland, Sterling amassed an impressive 87-27 record and was a two-time NCAA division III All-American. After making the transition to mixed martial arts at age 21, Sterling started off his career hot by dominating the east coast scene, winning both the CFFC (Cage Fury Fighting Championships) and Ring of Combat Bantamweight championships. Now a top ten Bantamweight, Sterling holds impressive submission wins over fellow ranked fighters Johnny Eduardo and Takeya Mizugaki with his only two losses coming by way of close decisions to Bryan Caraway and Raphael Assuncao. Despite a few hiccups the Serra-Longo prospect still has a promising career ahead and will likely only see more success moving forward.
8. David Branch
Our next entry has likely spent the most time outside the UFC on this list, but that should hardly deter the body of work David Branch has completed. Despite an unassuming 2-2 record in the UFC during his run with the promotion, Branch would go on to completely dominate not only the Middleweight but the Light Heavyweight landscape of the World Series of Fighting. Branch won both divisions titles and held them simultaneously over the course of 14 months before finally getting called back to compete in the Octagon. During his undefeated run for WSOF, Branch defeated the likes of Paulo Filho, Dustin Jacoby, Clifford Starks, Jesse Taylor, Vinny Magalhães and Yushin Okami. Now competing again for the Ultimate Fighting Championship, the Renzo Gracie black belt has recently opened up his own gym and will look to continue his dominating ways as a member of the promotions Middleweight division.
7. Dennis Bermudez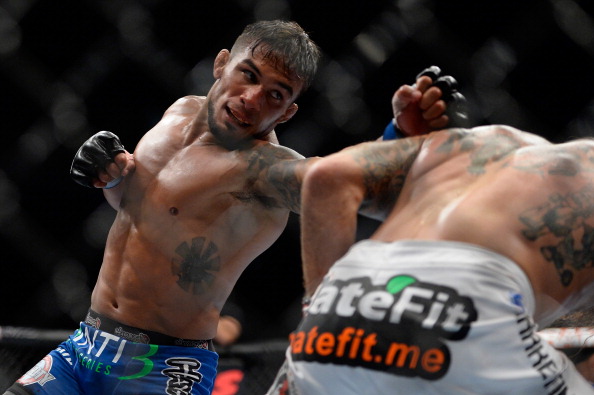 UFC  –  Jeff Botarri /Zuffa LLC
If toughness counted for more than it does on this list, Bermudez would likely be higher up. A runner up on the 14th season of the Ultimate Fighter, Bermudez has since earned himself a longstanding spot among the best Featherweights in the world. After a successful run as a high school and division-1 collegiate wrestler, Bermudez dominated the east coast scene as a Lightweight before making the decision to compete at 145 pounds going into the Ultimate Fighter. He has since rounded off wins over Clay Guida, Rony Jason, Tatsuya Kawajiri, and Featherweight champion Max Holloway. And no one could ever forget his epic confrontation with Matt Grice at UFC 157 that was a 2013 Fight of the Year nominee.
6. Neil Magny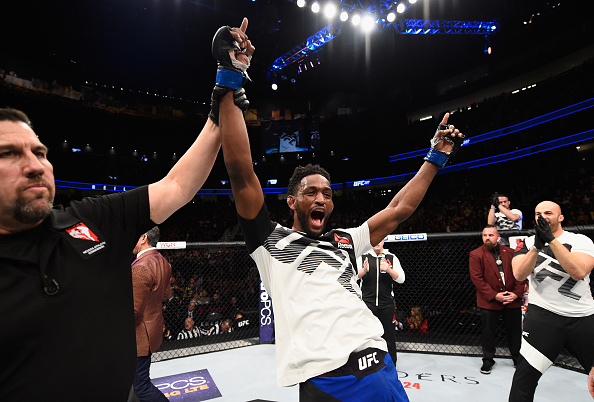 UFC  –  Jeff Botarri /Zuffa LLC
Welterweight standout Neil Magny is certainly worthy of being on this list. If you were to include his bouts fought as a cast member of the 16th season of the Ultimate Fighter, he holds the most UFC wins out of anyone else on this list short of one man. With a 12-4 record officially in the short time span of four years, Magny is one of busiest fighters in the UFC today. Magny also holds the unique distinction of having attained the most wins inside of a calendar year with five, tied only with former UFC Lightweight Roger Huerta. With three Performance of the Night awards and a stern hold on his top ten ranking slot, Magny has proven to be one of the most exciting and talented fighters currently competing in the UFC's impressively competitive Welterweight division. Magny holds victories over the likes of Hyun Gyu Lim, Erick Silva, Hector Lombard, Kelvin Gastelum, and most recently former UFC Welterweight champion Johny Hendricks.
5. Al Iaquinta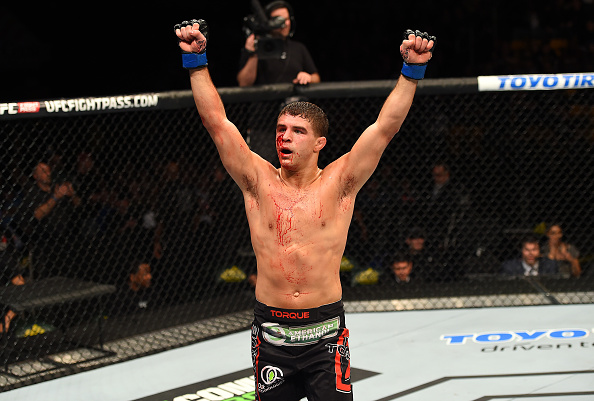 UFC  –  Josh Hedges /Zuffa LLC
One of the most devastating fighters on this list, Al Iaquinta has quickly cemented himself as one of the most brash, and hard hitting fighters around with seven of his 13 wins coming by way of knockout. This Serra-Longo prodigy dominated during his run on one of the most unique seasons of the Ultimate Fighter where all the fights for this particular show were contested live. Iaquinta competed four times in the time span of less than three months winning both Knockout and Fight of the Season. Currently 8-2 inside the Octagon, Iaquinta holds notable victories over Ryan Couture, Kevin Lee, Ross Pearson, Diego Sanchez, and Jorge Masvidal.
4. Matt Serra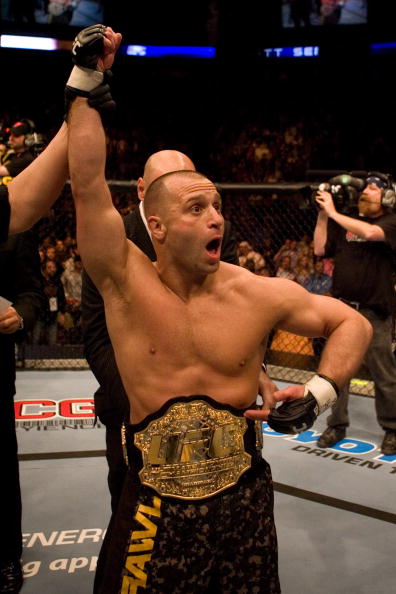 UFC  –  Josh Hedges /Zuffa LLC
If you ask any longtime fan of mixed martial arts what they would consider the greatest upset of all time, Matt Serra's knockout victory over Georges St-Pierre at UFC 69 would get a plethora of votes. Born in East Meadow, New York, Serra first began kung fu at an early age. As a teenager he began competing in wrestling before taking up brazilian jiu-jitsu at the age of 18 under Renzo Gracie and began competing professionally in BJJ. Not soon after would Serra earn his black belt back in 2000, the first American to do so under Renzo. Serra accomplished little before being given the chance at a Welterweight title shot on the fourth season of the Ultimate Fighter, aptly titled "The Comeback" season. Leading up to his bout with GSP, very few people were giving Serra a chance. With some sports books having him a +900 underdog, Serra still holds the largest betting value as an underdog bet that there's ever been. While St. Pierre was widely considered the more skilled striker heading in, St-Pierre had difficulty dealing with Serra's odd blend of power striking, aggression, and short stature. Three minutes into the first round, Serra caught St-Pierre behind the ear with a right hook that would drop the Canadian star en route to Serra becoming the most unlikely UFC champion of all time. Now retired, Serra works with striking coach Ray Longo as they run multiple gyms in New York state under the Serra-Long Fight Team brand which houses the talents of multiple highly talented fighters currently competing today.
3. Chris Weidman

UFC  –  Josh Hedges /Zuffa LLC
If you defer to that last question regarding upsets, another worthy contender is Chris Weidman's incredible knockout over one of the greatest fighters in mma, Anderson Silva. Before competing in mixed martial arts, Weidman was a standout collegiate wrestler earning All-American wrestling honors twice at Nassau Community College before transferring to Hofstra University. He became the first junior college wrestler in history to be a New York state collegiate champion. At Hofstra, he became a two-time Division I All-American. With his phenomenal wrestling skills translating well into mma under the teachings of Matt Serra and Ray Longo, Weidman would dominate the Middleweight division en route to a title opportunity against Anderson Silva and his historical championship reign. Prior to their first meeting, Silva had defended his UFC Middleweight belt a company record 10 times. During their matchup at UFC 162, Silva seemingly took Weidman lightly, taunting his American foe and mocking multiple attacks Weidman would land throughout the bout. Weidman would not be deterred however, eventually landing a monumental left hook that floored the Brazilian legend, instantly ending his near seven-year reign as champion. Weidman would go on to defend the title three times over the course of 888 days, the second longest and most successful reign of the Middleweight division in the UFC. His other wins inside the Octagon include Mark Munoz, Urijah Hall, Demian Maia, Vitor Belfort and Lyoto Machida.
2. Rashad Evans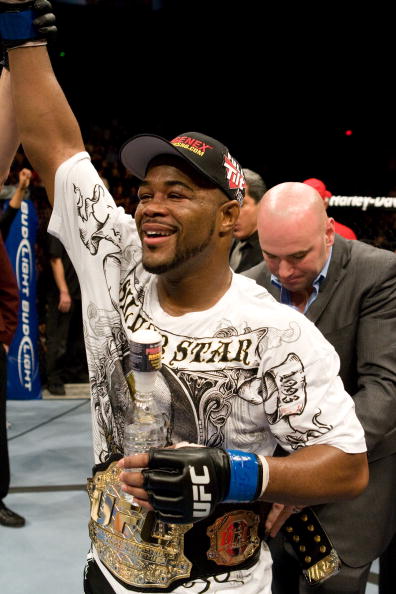 UFC  –  Josh Hedges /Zuffa LLC
Another NCAA wrestling great, Evans was high level collegiate wrestler for Michigan state before taking his skills to the mma scene. Evans would go on to the win the second season of the Ultimate Fighter as a Heavyweight. Once the show had passed, Evans would pave a legendary road as a Light Heavyweight competitor defeating the likes of Stephan Bonnar, Michael Bisping, and Jason Lambert en voyage to a climactic meeting with Chuck "The Iceman" Liddell at UFC 88. Rashad would change the Light Heavyweight landscape for good after landing one of the most devastating one punch knockouts in mixed marital arts history on Liddell earning him multiple Knockout of the Year awards. Evans would go on to defeat Forrest Griffin for the UFC Light Heavyweight championship at UFC 92, cementing his status as one of the greatest fighters of his era. Evans would continue to dominate for years to come, garnering victories over more notable names such as Phil Davis, Chael Sonnen, Thiago Silva, Tito Ortiz, Dan Henderson, and Quinton "Rampage" Jackson.
1. Jon Jones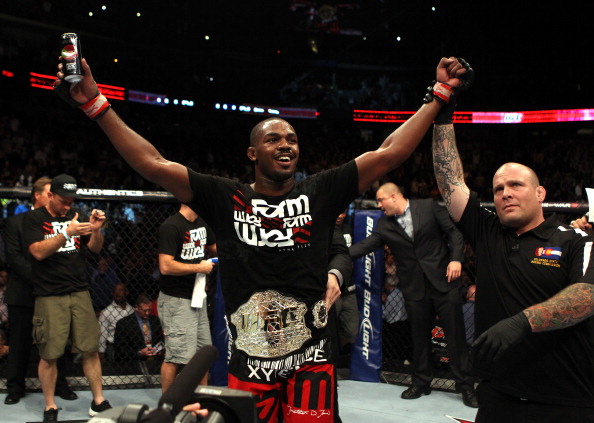 UFC  –  Jed Jacobsohn /Zuffa LLC
Simply put, Jon "Bones" Jones is arguably the greatest mixed martial artist to ever compete in the sport. Starting off his professional career at the raw age of 20, Jones quickly soared to the top of his division like very few had ever achieved. When he defeated Mauricio "Shogun" Rua at the record breaking young age of 23, a new era had dawned on the entire landscape of mma. Jones would go on to secure one of the greatest championship runs in UFC history, defending his title a Light Heavyweight record eight times before unfortunately being stripped of the belt back in 2015. During his run, Jones defeated the likes of Ryan Bader, Chael Sonnen, Vitor Belfort, Lyoto Machida, Rashad Evans,  Glover Teixeira, Alexander Gustaffson, and Daniel Cormier. While Jones is not yet done competing in mma, he has already achieved the accolades of legends and will likely go down as one of the greatest fighters that combat sports has ever seen.
Honorable Mention: Gian Vilante, Urijah Hall, Pete Sell
(Visited 191 times, 1 visits today)