The Golden State has amassed a timely history within the sport of mixed martial arts. So too have some of the state's best fighters both in the modern and pioneer era. This is Nick's Top Ten and we're going to take a look at California's top ten fighters to ever step in the mma cage or ring. For this list we're looking at the best and most influential mixed martial artists born in the state of California.
10.  Josh "The Punk" Thomson 
Born in San Jose, California, Josh "The Punk" Thomson is arguably the most traveled veteran on this list. Thomson has competed nearly everywhere throughout his career including WFA,  UFC, Strikeforce, and Bellator MMA where he is currently signed. He even has a lone Pride Fighting Championship bout stored under his belt. While Thomson has competed all over the world, it is his time spent under the Strikeforce banner that he is most recognized for. Especially when you consider his championship rivalry with Gilbert Melendez. In a trilogy of bouts, all for the promotions lightweight championship, Thomson and Melendez would go to war in a series of the some of the greatest fights in Strikeforce history. Over the course of his now 16 year career, Thomson is one of the most prolific journeymen in the game having defeated the likes of Duane Ludwig, JZ Cavalcante, Pat Healy, KJ Noons and Nate Diaz. He is a one time Knockout of the Night winner, and was Sports Illustrated 2009 Round of the Year recipient.
9. Cub Swanson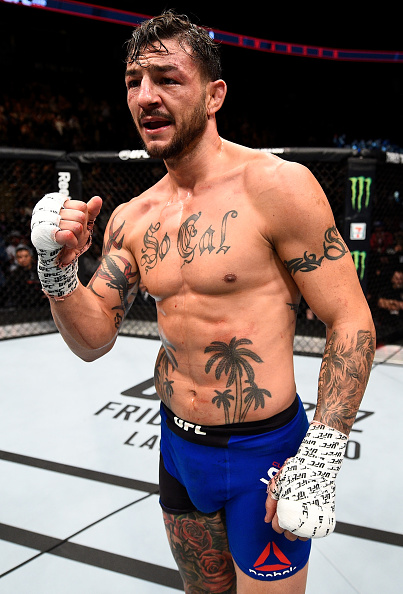 UFC  –  Jeff Botarri /Zuffa LLC
It's hard to not add a fighter who has ' So-Cal' inked onto their chest, but Cub Swanson has done a lot more than that to earn a spot on this list. One of the sports most exciting featherweights, Swanson has delivered fireworks just about every year since his debut fight with the WEC. After going 6-3 with the World Extreme Cagefighting, Cub crossed over to the UFC and has been one of the featherweight divisions top fighters ever since. His bout with Doo Ho Choi at UFC 206 was by many major accounts the 2016 Fight of the Year winner. Cub would take the momentum of that win into 2017 and is currently on a four-fight winning streak, which sees him close to potentially earning himself a title shot that has thus far eluded him during his six year tenure with the UFC. Swanson also holds wins over Tatsuya Kawajiri, Charles Oliveira, Dennis Siver, Jeremy Stephens and Dustin Poirier.
8. Gilbert Melendez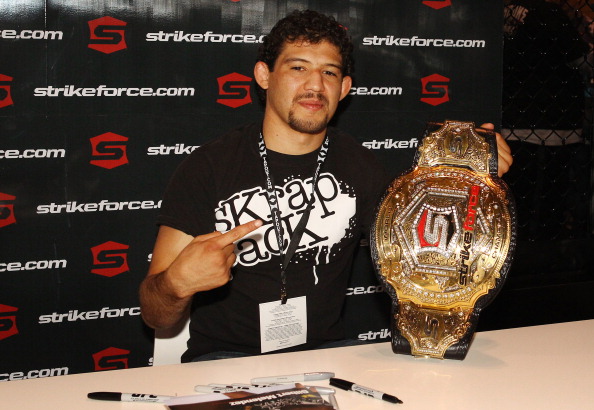 UFC  –  Josh Hedges/Zuffa LLC
Gilbert "El Nino" Melendez is one of the most legendary fighters to have ever competed for the now defunct Strikeforce promotion. Another vast journeyman, Melendez has competed all around the world, having competed in the WEC, Pride FC, Shooto, and Strikeforce before landing in his present home, the UFC. Melendez is stablemate of the infamous Skrap Pack, a group of Cesar Gracie Jiu Jitsu standouts that currently reside in northern California.  Other stable mates include David Terrell, Jake Shields, and the Diaz brothers. During his time with Strikeforce, Melendez amassed arguably the most impressive run as a champion for the promotion. So much so that many argued for his place among the top of mma's lightweight mountain despite competing for an organization outside of the UFC. Although Melendez finds himself in a bit of a slum these days, "El Nino" is a premier fighter who also holds notable wins over many of Japan's best combatants such as Mitsuhiro Ishida, Tatsuya Kawajiri, and Shinya Aoki, while his epic battle with Diego Sanchez at UFC 166 is widely regarded as one of the most exciting fight of the last five years.
7. Nick Diaz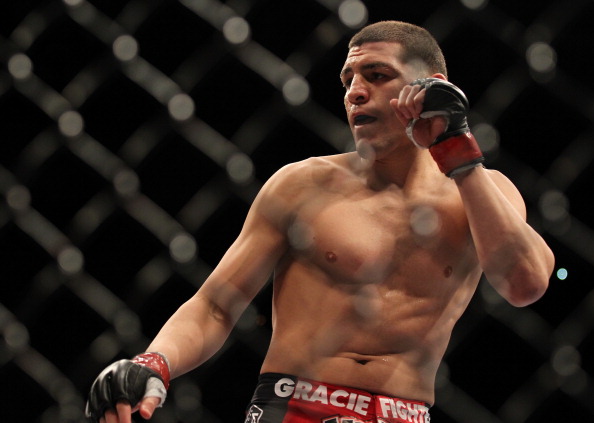 UFC  –  Josh Hedges/Zuffa LLC
If popularity were to determine your spot on this list, Diaz would be much higher. Nick Diaz is one of the most controversial fighters to ever compete in the sport. Along the way, he has garnered one of the sports best resumes as a welterweight. Diaz has competed against the likes of Robbie Lawler, Frank Shamrock, Hayato "Mach" Sakurai, Sean Sherk, Diego Sanchez, Paul Daley, Carlos Condit, BJ Penn, Anderson Silva, and Georges St-Pierre. Along the way he became one of the longest reigning Strikeforce welterweight champions, competed for the UFC welterweight title twice, forged one of the most unique trash talking styles in the sport, and gathered multiple Fight of the Year awards. All while putting his hometown of Stockton, California on the map.
6. Luke Rockhold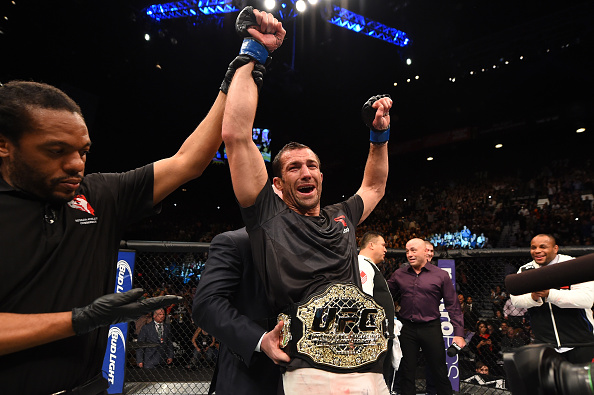 UFC  –  Josh Hedges/Zuffa LLC
While overall skill isn't the only qualification for making it onto this list, it sure counts for a lot. Because of that Luke Rockhold finds himself number six on this list. Rockhold was the first fighter to win both a Strikeforce and a UFC championship. He did so by beating both Ronaldo "Jacare" Souza at Strikeforce: Barnett vs. Kharitonov and Chris Weidman at UFC 194. Rockhold is currently ranked within the top 10 of one of the most competitive UFC middleweight divisions of all time. While he has taken a recent hiatus since his loss to the champion Michael Bisping back at UFC 199, Rockhold is still regarded as one of the best middleweights on the planet. Rockhold also holds wins over Keith Jardine, Tim Boestch, Tim Kennedy, Costas Philippou, Lyoto Machida, and present champ Michael Bisping.
5. Nate Diaz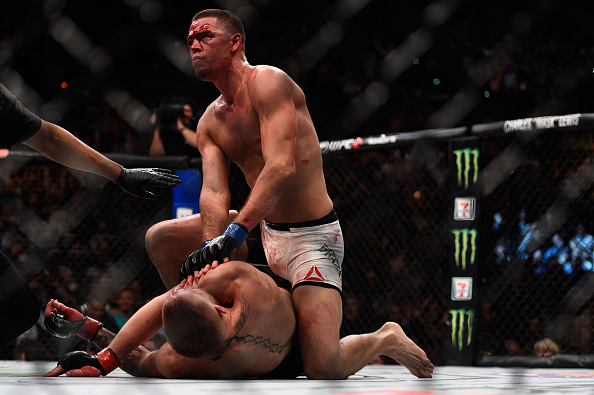 UFC  –  Jeff Bottari/Zuffa LLC
The other Diaz brother finds himself on this list for more than just his impressive skill set. While Nate Diaz does hold an eerily similar boxing and gracie jiu jitsu style like that of his older brother Nick, Nate holds a world of personality all his own. This was no more obvious following his victory against Michael Johnson at UFC on Fox 17 when he infamously called out Conor McGregor. Though Nate had been competing for the UFC for nine years by this point, his most illustrious contest came at UFC 196 when he defeated the seemingly unstoppable Irishman by rear naked choke in the second round. Nate Diaz shocked the world with this victory, and has since become an advocate for fighters in the hopes that many will go on to further summate their brand after back to back seven figure pay days. Diaz has competed against many of the worlds best mma fighters since winning season five of the Ultimate Fighter back in 2007, such as Melvin Guillard, Marcus Davis, Jim Miller, Dong Hyun Kim, Clay Guida, Gray Maynard, Raphael Dos Anjos, Rory MacDonald, Donald Cerrone, and Benson Henderson.
4. Tito Ortiz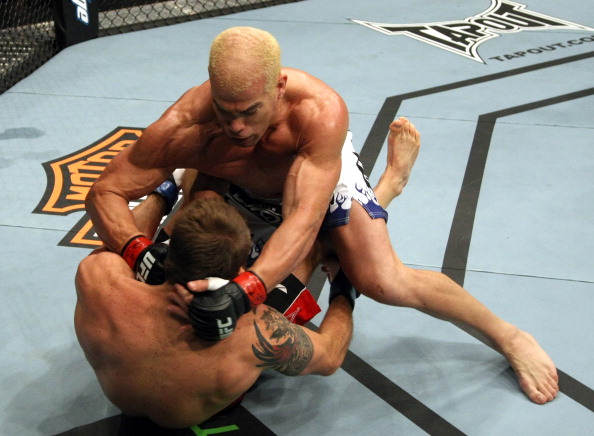 UFC  –  Josh Hedges/Zuffa LLC
If you had to come up with a guy who is a 'love him or hate him' name on this list, the number one choice would be "The Huntington Beach Bad Boy" Tito Ortiz. Ortiz has one of the most esteemed careers on this list having competed at UFC 13 all the way back in 1997, and at one point held the record for most UFC light heavyweight title defenses with five. He holds victories over several of the sports stars such as Evan Tanner, Ken Shamrock, Vitor Belfort, Stephan Bonnar, Alexander Schlemenko, Wanderlei Silva, Forrest Griffin and Ryan Bader. Ortiz' rivalry with Chuck Liddell remains one of the most compelling in the sports history, while his impact and persona can still be felt to this day. Ortiz rounded out his career with a solid title run in Bellator before closing the door on his career for good after defeating Chael Sonnon at Bellator 170. A true pioneer of the sport, very few others did it their own way quite like the original 'Bad Boy'.
3. Urijah Faber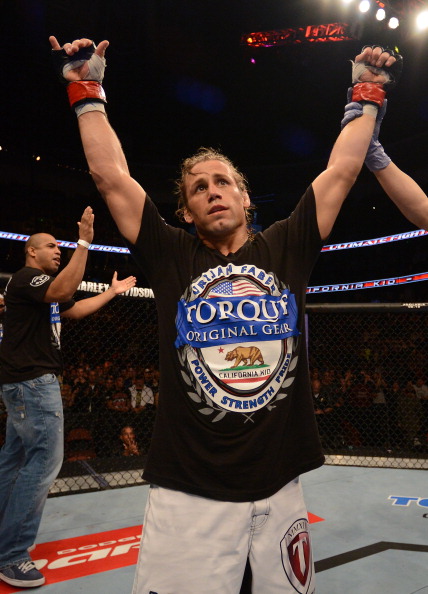 UFC  –  Josh Hedges/Zuffa LLC
You just knew "The California Kid" himself was sure to end up on this list. Synonymous with California MMA, the Team Alpha Male founder has obtained a plethora of accolades over his 13 year career. A soon to be hall of famer, Faber was one of the first few lower weight class stars when he hit the scene back in the late 2000's under the World Extreme Cagefighting promotion. Sacramento's own was a dominant WEC featherweight champion who headlined the organizations lone pay per view, and defended his title a company record five times against the likes of Jeff Curan, former UFC lightweight champion Jens Pulver, and future bantamweight superstar Dominick Cruz. Faber would go on to accomplish plenty in his time with the UFC as well. Going 10-6 inside the Octagon while ducking no one, Faber competed with only the finest combatants losing five of those six losses in championship bouts. Faber is a fighter most aspire to be when they enter into the world of mixed martial arts. Just as he gave us so much as a competitor, he will continue to give as a mentor and a coach as he looks to lead the next generation of stars through his world renowned Team Alpha Male gyms.
2. Dan Henderson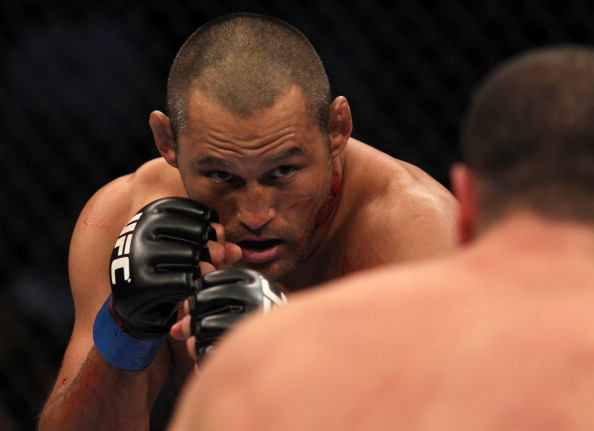 UFC  –  Josh Hedges/Zuffa LLC
If you're one of the types to look at the term pound for pound in a literal sense, one of the names that indisputably belongs on that list is Dan "Hendo" Henderson. A legend and sure to be first ballad hall of famer, Dan Henderson was an accomplished Pan American wrestler who's exceptional grappling skill secured him a UFC tournament championship at UFC 17. He would go on to cement his legacy with the Pride Fighting Championship promotion, becoming the organizations only dual-champion winning both the welterweight and middleweight titles. Many argue what is Henderson's career defining moment, the mark of any true legend. From landing arguably the greatest one punch knockout of all time against Michael Bisping at UFC 100, to becoming the lone man to knockout Fedor Emelianenko, to putting on one of the most exciting light heavyweight bouts in history against Mauricio "Shogun" Rua at UFC 139, the list goes on and on.  If you're looking for a man that's done it all, very few fit the bill like Dan Henderson.
1. Chuck Liddell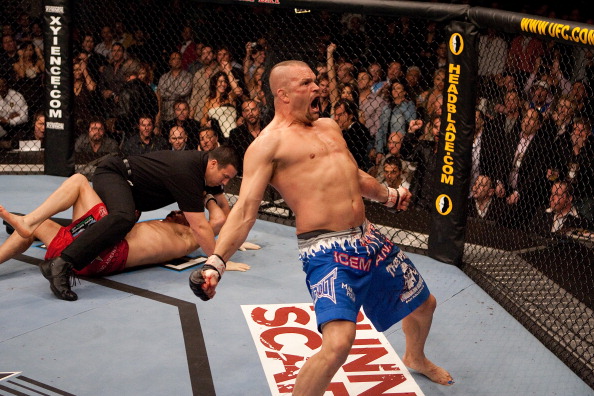 UFC  –  Josh Hedges/Zuffa LLC
There was a time when one name was synonymous with the term Ultimate Fighting. That name was Chuck "The Iceman" Liddell. From his rivalries with Randy Couture and Tito Ortiz, to his historic run as the light heavyweight champion, Liddell was one of the few pioneers that would bring mixed martial arts into the mainstream. His second bout with Ortiz was the first ever UFC event to exceed one million pay per view buys. Liddell brought about some of the sports most amazing moments and while he unfortunately didn't get to retire in the fashion he would have preferred, his crossover appeal in the mainstream, as well as his knockout power make him the most dominant UFC Hall of Fame inductee to date. 'The Iceman' has earned the unwavering respect of his peers and fans alike and is still beloved by the mma community to this day, as he will always be remembered as one of the pioneer fighters that helped bring the sport to where it is today.
Honorable mentions: Robbie Lawler, Shane Del Rosario, Ian McCall,
(Visited 2,022 times, 1 visits today)